Mysteries : The Official GrahamHancock.com forums
For serious discussion of the controversies, approaches and enigmas surrounding the origins and development of the human species and of human civilization. (NB: for more 'out there' posts we point you in the direction of the '
Paranormal & Supernatural
' Message Board).
To understand the significance of the introduction of the palace facade mastaba and what it means to the formation of the Dynastic state, we need to take a brief step back and look at how we got to this point in AE history in the first place.
The period from c. 11,000-6,000BC is strangely almost completely absent of Nilotic (Nile dwelling) cultures. No one knows why this is, but the best theory so far is that they are hidden under the silt of the Delta which is compelling as up until 6,000BC it was much different.
Today it ends north of Cairo, but in 6,000BC the Delta extended all the way down to Saqqara in which the Nile was also a much larger river. Around 6,000BC a flooding event occurred in the Mediterranean spoken of in previous posts that completely flooded out the Delta turning it for a time into one "Great River". The first culture that appears in our march towards Dynastic Egypt is the "Faiyum A" culture c. 5200BC that settled predominantly along the northern banks of the then much larger Faiyum oasis. See picture above. These were a seasonal nomadic people from the Levant of which no burial sites have yet been found despite much material evidence including grain silos and Levantine sickles suggest they were the first farmers of Egypt as well. Evidence of this cultures ends around 4,000BC.
The next cultures to appear were the Merimda and el-Omari around 4800BC until c. 4300BC. Like Faiyum A, the Levantine influence is readily apparent which at this time permanent round structures with hearths are found, typical of the Levant long before. The Merimda and El-Omari settlements are mostly found to the north of the Faiyum along the Nile.
The next culture, and the most significant up to this point to appear along the Nile, is the Badari c. 4400-4000BC.
Perhaps known best for their impressive and prolific catalog of pottery, the Badari by and large represent a significant "upgrade" in material culture compared to what had come before. The problem, however, is that no one knows where they came from, not even the Levant. To quote Romer:
Quote

...unlike the pottery forms of later ages, Badarian pottery seems to have appeared quite suddenly and fully formed beside the Nile. There is no clue as to its origin: the Badarians and their fine pottery, their bags and traps, their fires and herds, their settlements and graveyards, appear , as it were, from nowhere.
(Beyond the scope of this post, but it is possible they came from as far afield as the Danube/Black Sea region famed for its enigmatic neolithic Vinca and Varna cultures spoken of before.)
To continue with Romer:
Quote

Unlike the continuous cultural tradition that Petrie's pottery chart so carefully lays out for later ages, all of Egypt's earliest known communities, the Faiyum farmers, the Merimdans and all the rest, appear in exactly this same sudden way; like the Badarians, they all seem, as it were, to have come from nowhere.
One of the notable leaps in culture with the Badari is it is here for the first time we find cemeteries as well as ritual burial. While the tombs themselves were simple oval pits, sometimes plastered with mud or even lined with mud brick walls, the dead were often dressed in fine clothes and jewelry with a relatively elaborate assortment of grave goods. For all intents and purposes, it is here with the Badari the Egyptian history we know truly begins to take shape. But things, again, are not as simple as they would appear.
Towards the end of the Badari period, or contemporary with the beginning depending on who's dating, arrive the Naqada culture, again from where we do not know. Different this time, however, is the Naqada appear to have absorbed the Badari continuing in their own way many of their material and cultural traditions including ritual cemetery burial. The Naqada culture is distinguished in time by differences in pottery noted by Petire: Naqada I, Naqada II, and Naqada III. These are further divided into sub groups, but I'll refrain from going into detail to keep things on track. Truth be told, this distinction between the various Naqada phases are a bit of a mess, arbitrarily derived and dated, by differences in pottery despite the fact often there is otherwise nothing to delineate in time this pottery other than these differences. Petrie thought it would take about 100yrs for this pottery to change the way it did so this is how he dated these periods which in reality may be somewhat different. For example, while Egyptologists have thought the Naqada period began around 4400-4000BC, a recent RCD study of this period suggests it began much later, around 3800-3700BC. So instead of lasting 1,000yrs or more before the formation of the Dynastic state, it may have actually been half that time.
To quote Romer again:
Quote

Conventional histories of Naqadan culture are by definition bogus. The information fundamental to their compilation is simply not available. Basic statistics of Naqadan society are unknown , the roughest population and settlement sizes little more than guesses....There are no known events, no personalities, no cities, no wars, no clans, no cults, no evolution and no revolutions.
Not trying to confuse the issue, but the Naqada period has many challenges, the least of which its dating and duration.
To continue, Naqada I, also labeled the "Amratian culture", was much like the Badari period, just more. More pots, more graves, more buildings (though now made of adobe), more stuff. More but still quite modest with a few innovations here and there. The Naqada I period lasted from c.4400/4000-3500BC which is of considerable note as this is roughly half, if not much more than half depending on who's dating, of the traditionally dated Naqada period as a whole. It is Naqada I that over time absorbed the Badari, and while putting their own stamp on things, continued many of their cultural and material traditions.
We have now arrived at Naqada II (Gerzean culture) c.3500BC which it is here shit begins to hit the proverbial fan. Pottery as expected becomes more sophisticated, not just in production techniques like the inclusion of spouts and lug handles (imported from the Levant mind you) and volume of production, but also the designs found which now feature artwork and curious patterns which include numerous depictions of boats: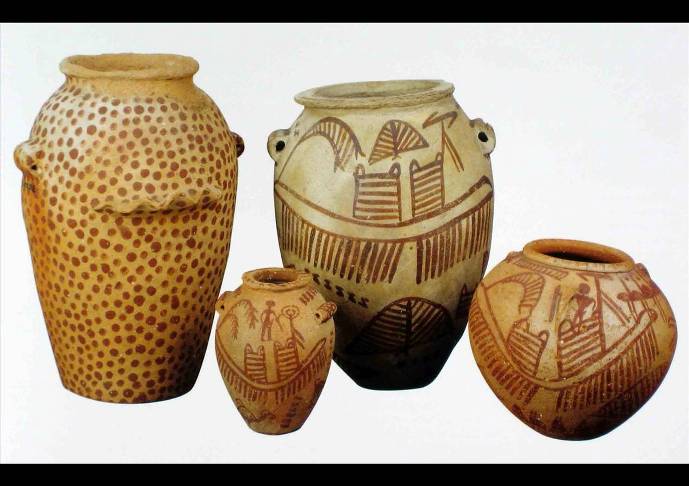 Boats, boats, boats. All of a sudden boats, or at least depictions of them, become very important, almost revered. One thing is for certain, while prior to this time the various Nilotic cultures would have utilized water craft of a sort, surely built using bundles of reeds, it is here in Naqada II we see something completely different-not just size and sophistication, but also that they are clearly manufactured of wood. Where did these new fangled boats and technology to make them suddenly come from? And is it any coincidence these boats signal the meteoric rise and appearance of Naqada II culture that just so happens to coincide with a rapidly increasing influx of foreign influence and goods?
Hierakonpolis (Nekhen) is arguably the most important predynastic site in ancient Egypt with occupation going back to the beginnings of Naqada I, perhaps even the Badari. In the Naqada II period, c. 3400BC, population estimates are anywhere between 5,000-10,000 inhabitants. Looking at one of the maps above for reference, Hierakonpolis is more than 100mi south of Abydos. Not enough time in the day to give a full treatment of this site so I'll focus on the aspects related to Naqada II. It is here at the beginnings of Naqada II that we find this structure in the heart of the city known as the "Temple Oval":
The rub is that this structure is identical in plan and purpose to those found in Mesopotamia of the same period as well as before and after. It is recognized by some as a "Mesopotamian building" in Egypt. If that were all that was found at Hierakonpolis of a Mesopotamian element we would leave it at an anomaly, but there is much more. Found also are numerous stone palette fragments of clearly, some identical, Near Eastern design, namely Uruk and Elam. Pear shaped Mesopotamian mace heads that became part of parcel of the later early Dynastic inventory, some strangely large, some with the same Mesopotamian artistic style as found on the palettes. Various artifacts such as ivory objects made in the distinct Mesopotamian style of Elam and Sumer. Much more.
One thing I would add real quick as a preface to this next bit, though not found at Heirakonpolis and thought to be from Abydos, is the Naqada II "Gebel el-Arak knife: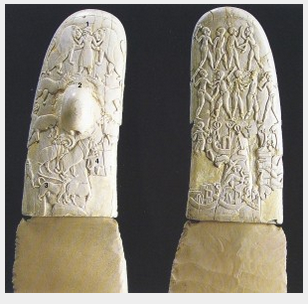 Which clearly shows a Sumerian holding two lions at bay, the classic Mesopotamian "master of beasts" motif:
While its exact provenance is not known, I suspect given the unique ivory production of the period found at Hierakonpolis this was likely where it is originally from.
The Naqada II Tomb 100 at Hierakonpolis is unique in many ways. To start with it contains not only the oldest tomb painting in Egypt, but what it portrays is quite provacative:
While we see a collection of large boats of the type that suddenly appear in the Naqada II period, at the center of this armada is an ominous "foreign" black boat with high prow that, though there is disagreement, which I think is self serving, many Egyptologists have argued this boat is a Mesopotamian ship. As if there were any doubt, sure enough we also see in this painting the classic Mesopotamian "master of beasts" with a man holding two lions at bay:
I am out of time for today and this post is getting quite large with much more to go, so I'll have to leave this as PART 1. Hopefully I can pick up where I left off tomorrow otherwise I probably won't get to it for several days. No edits so hopefully I made some sense. But here we are at the heart of the matter-the arrival of Mesopotamian influence leading to the formation of the Dynastic state.
[Edits complete 8-15-18 10:02pm]
Text © 2018 Lee Anderson. Photos property of respective copywriter holders.
Edited 9 time(s). Last edit at 27-Jan-19 02:48 by Thanos5150.
Sorry, only registered users may post in this forum.