Mysteries : The Official GrahamHancock.com forums
For serious discussion of the controversies, approaches and enigmas surrounding the origins and development of the human species and of human civilization. (NB: for more 'out there' posts we point you in the direction of the '
Paranormal & Supernatural
' Message Board).
Barbelo Wrote:
-------------------------------------------------------
> One concern that I had with the ancient perimeter
> wall suggestion was that it is offset with
> relation to the building work - heads slightly
> NW.
>
> I can't vouch for the veracity of the linked
> article but it gives another perspective on why
> the wall may be offset. Maybe an elevated causeway
> with missing temples at each end.
>
> [
home.hiwaay.net
]
This seems to be a more accurate perspective:
This is a very interesting map that speaks directly to what I've been saying about a central location of bringing stone from the Nile to service the entire plateau: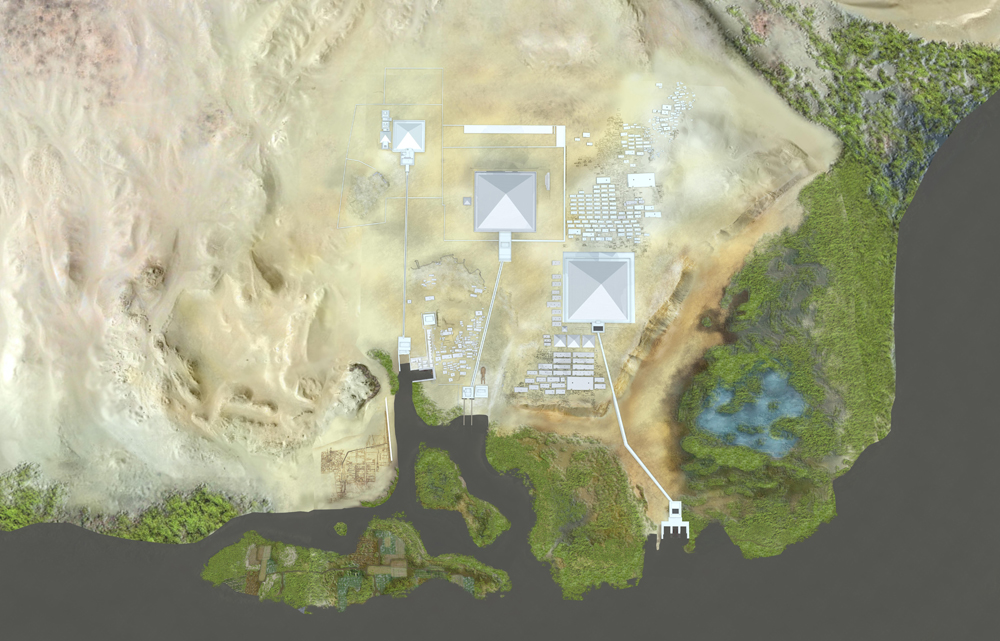 Regarding the Wall of the Crow, it seems to be related to the waterway. It is interesting to think there may have been a bridge over the waterway from one of the "islands" leading to the Wall of the Crow. If Lehner is right, and Set 1 of the Gallery Complex predates the WoC then this suggests whatever its purpose was well into the period in which construction had begun.
We can see best path to G1 is like I have suggested in previous threads at the right of the Sphinx harbor where the modern road is today:
I haven't quite figured it out yet, but I am stuck on the idea the Sphinx enclosure was part of this process before the Sphinx was carved into a statue.
Regardless, as far as G2's causeway being a material transportation ramp, this map puts yet another dagger in this dead horse as the Khentkawes segment of the harbor would have been a more direct and shorter land route. Even using Menkaure's causeway then cutting over would be a shorter land route and would have serviced both G2 and G3 without a pesky temple getting in the way as Menkaure's Valley Temple at least was obviously built after construction of the pyramids:
Other than the limestone base and part of a wall, which leaves one to wonder what it was actually supposed to be during the time of pyramid building, it again was left uncompleted shoddily worked over by Shepseskaf (in mud brick) with most of the structure being built in the 5th and 6th Dynasties (in mud brick).
Sorry, only registered users may post in this forum.