Mysteries : The Official GrahamHancock.com forums
For serious discussion of the controversies, approaches and enigmas surrounding the origins and development of the human species and of human civilization. (NB: for more 'out there' posts we point you in the direction of the '
Paranormal & Supernatural
' Message Board).
Audrey Wrote:
-------------------------------------------------------
> This is where it gets tricky. There seem to be two
> factors involved here. One is the Egyptian Sphinx,
> for which no inspiration can be found, as you well
> know. The other factor is the true Sphinx, or the
> Greek Sphinx, for which there is tremendous
> inspiration but not as a recumbent lion.
> Egyptology seems to want to keep the Egyptian
> sphinx separate from the Greek, but the more I
> learn the harder it is to do so.
Yeah, this is quite interesting. Worth noting again from a previous discussion:
Quote

According to Encyclopedia Britannica (which speaks to some of your other thoughts as well:

Quote

Through Egyptian influence the sphinx became known in Asia, but its meaning there is uncertain. The sphinx did not occur in Mesopotamia until about 1500 bce, when it was clearly imported from the Levant. In appearance the Asian sphinx differed from its Egyptian model most noticeably in the addition of wings to the leonine body, a feature that continued through its subsequent history in Asia and the Greek world. Another innovation was the female sphinx, which first began to appear in the 15th century bce. On seals, ivories, and metalwork the sphinx was portrayed sitting on its haunches, often with one paw raised, and was frequently paired with a lion, a griffin (part eagle and part lion), or another sphinx.

About 1600 bce the sphinx first appeared in the Greek world. Objects from Crete at the end of the middle Minoan period and from the shaft graves at Mycenae throughout the late Helladic age showed the sphinx characteristically winged. Although derived from the Asian sphinx, the Greek examples were not identical in appearance; they customarily wore a flat cap with a flamelike projection on top. Nothing in their context connected them with later legend, and their meaning remains unknown.

After 1200 bce the depiction of sphinxes disappeared from Greek art for about 400 years, though they continued in Asia in forms and poses similar to those of the Bronze Age. By the end of the 8th century, the sphinx reappeared in Greek art and was common down to the end of the 6th century. Often associated with Oriental motifs, it was clearly derived from an Eastern source, and from its appearance it could not have been a direct descendant of the Bronze Age Greek sphinx. The later Greek sphinx was almost always female and usually wore the long-tiered wig known on contemporary sculptures of the Daedalic style; the body became graceful, and the wings developed a beautiful curving form unknown in Asia. Sphinxes decorated vases, ivories, and metal works and in the late Archaic period occurred as ornaments on temples. Although their context is usually insufficient to enable their meaning to be judged, their appearance on temples suggests a protective function.

Source.
In Israel (Levant) at the site of Hazor c. 2nd millennium, a statue fragment was found of presumably a Sphinx with Menkaure's name on it:
Pharaoh's Sphinx Paws Found in Israel
. Other Egyptian objects have been found there since as well.
According to this source, the sphinx was known in the Levant at least sometime prior to 1500BC and first found in the Greek world c. 1600BC. The 12th Dynasty, the source of sphinx (and pyramid building) revivalism in Egypt, dates to roughly 2,000-1800BC.
I quote Wikipedia for convenience:
Quote

Amenemhat I and Senusret I:
This dynasty was founded by Amenemhat I, who may have been vizier to the last pharaoh of Dynasty XI, Mentuhotep IV. His armies campaigned south as far as the Second Cataract of the Nile and into southern Canaan. He also reestablished diplomatic relations with the Canaanite state of Byblos and Hellenic rulers in the Aegean Sea.
Also, regarding Senusret III:
"Manetho claimed the mythical Sesostris not only subdued the lands as had Senusret I, but also conquered parts of Canaan and had crossed over into Europe to annex Thrace."
The beginning of the MK is a very interesting period, particualrly the 12th Dynasty. Contact with foreigners seems apparent and in some ways here begins Egyptian history as we know it. Several written works are found in this period, otherwise non existent in the OK, including a cache of mathematical documents that most are generally believed to have been copied from 12th Dynasty originals. Interesting to me has always been some of the early MK columns found at the rock cut tombs of Beni Hasan: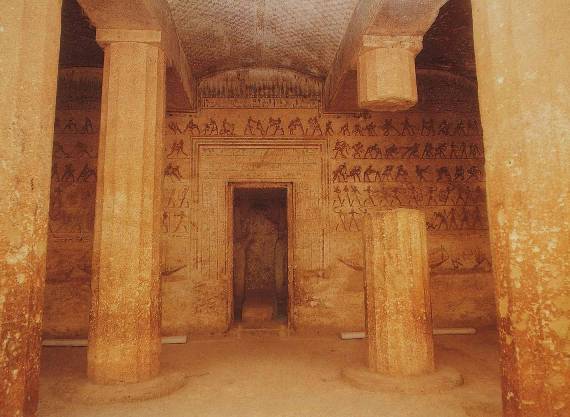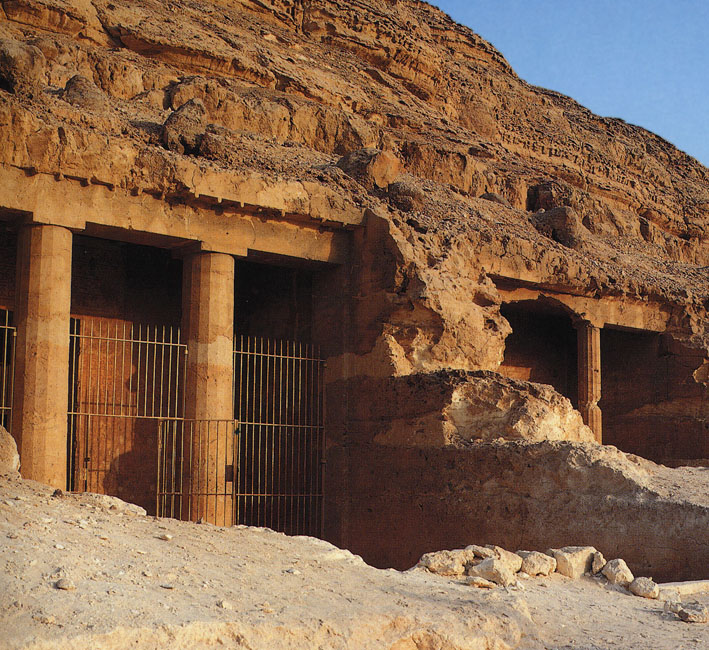 These are Aegean doric columns, not AE. Also on painted on the walls of these tombs are numerous depictions of semites from the Levant:
Clearly distinguishable from the Egyptians:
Adding a little flavor to all this is that Jewish tradition holds that Abraham was born in 1813BC who of course at some point leaves Canaan to Egypt to live there "for a while". Also of note is that Abraham was fearful for his life because his wife was hot and he thought they would kill him and take here so the plan was to say she was his sister. Sure enough, she was spotted by the pharaoh's agents and taken to the palace harem. AE men apparently were quite fond of foreign women.
4th Dynasty:
Hmm.
I digress. I agree the connections of sphinx iconography and its possible foreign origins is quite interesting. The Minoans and AE had a long connection with each other that no doubt is much older than the 18th Dynasty of Egypt, when it was supposedly at its peak. Though often like Mesopotamia they depicted the sphinx with wings, the Minoans of course were no stranger to the sphinx. The marked resurgence of AE culture beginning in the 12th Dynasty, part and parcel was their intimate connection with the Levant, I think is no coincidence. I need to spend some time, but I think the 1st IP through the 12th Dynasty is a much more interesting chapter in history than we thought. I also think it is possible the gap between the OK and MK is actually a bit longer with the both the MK being younger and OK being older. Still working on it.
> I remain uncommitted on the order of construction.
> It is too hard to tell from photos what was an
> addition or modification. Some changes are
> obvious, but unless you're there climbing over it
> all, it can be hard to tell where an addition
> begins and a modification ends.
Me too. Just trying to figure it out which I admit what makes sense to me today may not tomorrow.
> Speaking of
> changes, here's another photo showing damage to
> the Sphinx
> [snip for brevity]
This is another photo you posted from a previous discussion:
> Granted, it's not the best photo but from what we
> can see the north side being repaired looks quite
> a bit different than it does now. Alamy gives a
> date of 1926 for the photo. Looks like extensive
> repairs were done, so how can they possibly judge
> the amount of erosion by the repaired condition
> it's in now? Am I missing something?
Is it me or does the original form of the Sphinx keep looking more and more like a long narrow rectangle with a flat top...? Not a statue, but a platform of some kind.
> Isn't that exasperating to find there are
> inscriptions never mentioned by Egyptology? Makes
> me crazy.
> It's a long story, will try to condense to
> alleviate boredom.
>
> There are a few greek inscriptions on the paws.
> Can't find who discovered them or when but Thomas
> Young gave a translation so it was in the
> antiquarian days. There were found between the
> paws a 3'11" tablet, what they call an altar and
> two little Sphinxes. Samuel Sharpe(1862) in
> "
Egyptian Antiquities in the British
> Museum
" says the tablet is #193 in the museum.
> The paw inscriptions are mentioned by Thomas Young
> in "Miscellaneous Works of the late Thomas Young".
> By Wilkinson in "A handbook for travelers in
> Egypt". By George Long in "The British Museum:
> Egyptian Antiquities vol.2", and a couple others.
> I can give links if anyone is interested.
>
> I have to apologize for an error. Albeit a
> confusing one. The tablet is dated by the names
> contained within, putting it sometime in the 1st
> cent a.d.,
I think
, making it a product of
> the Roman Empire. I had forgotten about those
> names. So to say the Greeks uncovered the Sphinx
> would be technically incorrect, unless those who
> dug were actually Greek and not Roman. But either
> way they do not date to the Greek era.
K. Thanks for the info.
> My interest in the tablet is - it seems to be the
> source for Egyptologist's assumption that
> 'Harmachis' is the Greek form of 'Horus on the
> horizon' (Sphinx), as if it somehow substantiates
> the Sphinx was 'Horus on the horizon'. I wanted
> to see this 'Harmachis' in writing, literally, for
> surely there would be a trail of this 'Harmachis'
> and maybe a clue to the Giza Sphinx. Supposedly
> it's on the tablet.
>
> I should have known better. I found a few
> translations, but 'Harmachis' is missing, the
> translations have that space as "......."
> (lacuna). There was only one I could find who
> turned an analytical eye to the tablet; M.
> Letronne in
> [url=https://archive.org/stream/recherchespours00l
> etrgoog#page/n465/mode/2up/search/apmaxei]Recherch
> es pour servir à l'histoire de l'Égypte[/url].
> The book is in French, boy that was fun. As best I
> could figure out, he says of the word
> [quote=Letronne]
> APMAXEI letters, which begin this line are
> preceded by a perpendicular line, which seems to
> have been a Φ, according to Mr. Leake. It is
> impossible for me to guess what word they belong.
> Is this a verb in the third person? Is it a clean
> place name, as I would have to believe? Mr. Leake
> assures me that these letters are quite distinct.
> Subsequent procedures, namely: ΕΚ ΤΩΝ
> ΕΝΚΕΧΑΡΑ...ΕΝ....Α, seem to me to be
> the remains of some words, εχ των
> ενχεχαραγμενων εν αυτη
> (ςηλη) which tell us that the stele bore an
> inscription.
> [/quote]
>
> Bored yet?
Fascinated actually.
> As is par, this tablet has had the blanks and
> missing letters filled in, and the end result
> became a Greek verification of the Sphinx as
> 'Horus on the horizon'.
>
> I also found that there was a real person, not a
> god or Sphinx, named Harmakhis. If I'm reading
> correctly the Egyptian texts date to Ptolemy.
> [url=https://books.google.com/books?id=K7tqOKwQESo
> C&pg=PA93&lpg=PA93&dq=harmakhis+texts&source=bl&ot
> s=fwvAQWUisI&sig=M0j7r_lTxDiEksRoRfpcYLCWKGc&hl=en
> &sa=X&ved=0ahUKEwiKmOmm37LXAhVF7WMKHQeBBE8Q6AEIUTA
> L#v=onepage&q=harmakhis%20texts&f=false]From the
> Records of a Priestly Family from Memphis, Volume
> 1[/url]. Which would put him (real Harmakhis)
> right at the time the tablet was made.
You done some very interesting research on these subjects and the effort shows. Thank you. This would make for an interesting thread.
> Omg, I agree with you again. Who would have thunk
Time to buy lottery tickets.
> I whole heartedly agree.
>
> It's possible the front paws were a recent
> addition. No tail, no paws, this beast wasn't a
> lion or a dog.
> [quote="George Long"]
> The paws which are about fifty feet long were
> found to be constructed of masonry but the rest of
> the body is cut out of the rock.
> [/quote]
>
> Just thought I'd throw that in.
I really wanted to make something of this as part of my argument, but I couldn't verify this still held true or what the original assessment of this was that lead to this statement. Anyone know of sources to verify this?
I saw a video with Hawass who points out Old Kingdom repairs close to where the right arm and torso meet. What are they repairing? More blocks or the bedrock? If the paws are in fact made of all blocks, considering how built up the rear is as well, I think this all but seals deal the original structure was not a statue in any form let alone a Sphinx.
Edited 1 time(s). Last edit at 10-Nov-17 22:43 by Thanos5150.
Sorry, only registered users may post in this forum.