Mysteries : The Official GrahamHancock.com forums
For serious discussion of the controversies, approaches and enigmas surrounding the origins and development of the human species and of human civilization. (NB: for more 'out there' posts we point you in the direction of the '
Paranormal & Supernatural
' Message Board).
Luxor, 1858:
Today:
Karnak:
Kom Ombo: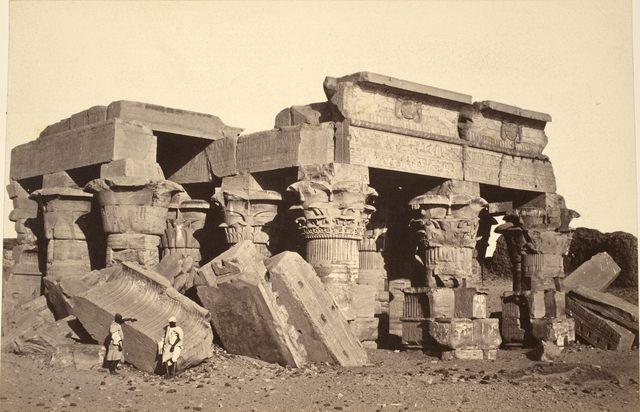 Just a few examples for reference as to the state in which much of Egypt was originally found in modern times. Ruined and buried sometimes as much as 15-20ft.
The Temple of Kom Ombo was built in the Ptolemaic Period between 180-47BC, a little more than 2,000yrs ago, yet look at the state in which it was found in the 19th century. Ruined and buried more than halfway up its columns. Luxor and Karnak, with construction lasting from the MK though the Late Period found 2,000yrs later buried more than halfway up their columns leaving the vast majority of these complexes completely obscured. By the Roman period, and perhaps long before, so much sand and debris had accumulated at Giza they apparently were unaware the Sphinx temple was even there.
All over ancient Egypt we see these monuments were originally found in modern times in various states of ruin partially or even completely buried under sand and debris. And this is often just after 2,000yrs. There are some, however, who believe these monuments were built by a lost civilization tens of thousands if not millions of years ago which we can only imagine the state the ancient Egyptians would have found them leaving it a wonder after so much time had passed they could have found much of them at all.
Look again at this photo:
The AE would have found Luxor, for example, after tens of thousands of years even more buried than this which given the different climates of the ages waxing and waning from desert to savanna some of the layers would have been hard pack dirt not just sand. With perhaps the tip of the obelisk poking out of the ground, all of this would have been completely buried:
So if in fact this was built by an LC tens of thousands of years ago and abandoned at the very latest, say, 12,000yrs ago, the AE would have found it all but if not completely buried with just the top of the obelisks sticking out of the ground. If we accept such things were built by the LC so long ago, this means the AE would have had to have excavated this entire site for square miles all the way around to get it to its original floor level which would have included all roads to the site. Yet after 10,000 yrs, if not tens of thousands of years-what state did they find the structures? Something similar to Kom Ombo if not worse: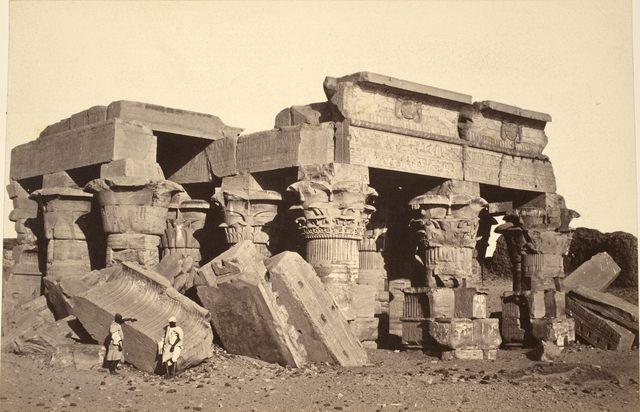 So after completing the massive excavation project, the AE would have started the daunting task of repairing and rebuilding the site. Restacking columns. Resetting lintels some 50ft in the air. Lifting back up an obelisk or two. Yet much of these blocks were damaged requiring the AE to quarry new blocks to spec and install them in the place of their damaged ancient counterparts.
From one end of the Nile to the other, for 3,000yrs, the AE set upon the unimaginable task of excavating site after site. Repairing and rebuilding one ancient structure after another. Billions of cubic yards of earth and sand they removed to clear site after site to floor level. Millions of tons of stone they moved to rebuild complex after complex-restoring toppled walls, erecting columns, setting fallen lintels. How many tons of repair block were they required to quarry, dress, move and install all to appear no different than the original blocks more than ten thousand years old.
The AE do not speak at length of pyramid building-fair enough. But where are all the tales of their excavating countless sites up and down the Nile for 3,000yrs restoring the great civilization of the "Lost Ones"? Where did all the untold billions of cubic yards of dirt, sand, and debris go that is otherwise indistinguishable from the natural surroundings today? To look at Giza, after thousands of untold years, the Sphinx, temples, and mastaba fields ect ect would have completely disappeared under countless feet of dirt and sand yet the 4th-6th Dynasty AE somehow cleared it all it to floor level.
If all of these things were built by the LC twelve thousand years ago or tens of thousands to millions of years ago-how do we explain this? How were the AE able to excavate site after site after site moving untold billions of tons of earth and sand and repairing each site all but good as new?
Edited 6 time(s). Last edit at 29-Oct-17 21:22 by Thanos5150.
Sorry, only registered users may post in this forum.