Mysteries : The Official GrahamHancock.com forums
For serious discussion of the controversies, approaches and enigmas surrounding the origins and development of the human species and of human civilization. (NB: for more 'out there' posts we point you in the direction of the '
Paranormal & Supernatural
' Message Board).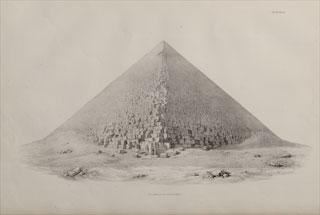 The Great Pyramid – John Shae Perring
Hello Romulus the 2; you wrote:
"So, is this vehicle known to any of you? And what are your thoughts?"
While exploring the Great Pyramid in conjunction with Howard Vyse, John Shae Perring discovered Khufu's northern upper shaft's exterior location on the 12th of February, 1837; a "clearing out" of the "mouth of the northern air-channel" began the next day. Vyse's journal entry for 17th February, 1837 reads:
"In the course of the morning, Giachino reported that the men, employed at the northern air-channel, had arrived at a portcullis; but when the sand had been completely cleared out, the supposed portcullis was found to be the termination of the forced passage
[Gantenbrink's "
Mankiller
"],
(three feet, by two feet nine)
[91.44 cm X 81.28 cm],
made to the extent of thirty-seven feet
, [11.2776 m]
upon the air-channel, which continued nine, by nine and a half inches, (at about an angle of twenty-six) in the solid masonry. It was full of sand and stones, which, owing to the smallness of the aperture, and its inclined position, were with difficulty taken out, though various instruments were contrived for that purpose. For many days scarcely a bushel of sand was drawn up; but, by Mr. Hill's, and afterwards by Mr. Raven's perseverance, and with the assistance of the boring rods, above ninety feet of this small channel were entirely cleared, and ventilation restored to the pyramid."
–
Operations carried on at the pyramids of Gizeh in 1837…Volume I
, pg. 159.
On page 145 of Vyse's Volume II, under "INSCRIPTIONS", the following entry is noted thusly:
"Great Pyramid…Northern air-channel – Opened May 22d, 1837"
.
Very likely, the Gantenbrink's "battering ram" is an artifact among the "Various Instruments" documented in
Operations
.
Dr. Troglodyte

"Quis custodiet ipsos custodes?" - Decimus Junius Juvenalis
Η άγνοια είναι η μητέρα του μύθου και του μυστηρίου.

"Numero, Pondere et Mensura"
Sorry, only registered users may post in this forum.