Mysteries : The Official GrahamHancock.com forums
For serious discussion of the controversies, approaches and enigmas surrounding the origins and development of the human species and of human civilization. (NB: for more 'out there' posts we point you in the direction of the '
Paranormal & Supernatural
' Message Board).
DUNE Wrote:
-------------------------------------------------------
> Well as unlikely as it seems , it would not
> completely rule out the possibility that in view
> of the sudden upheavals that took place at that
> time, that G3a could have been fully built without
> the normal big block step aspect.
All evidence point to the core being stepped regardless of how large the blocks were which as far as we know it may well have been no different than the others.
G2 has granite casing stones at its base and limestone at its top.
> Granite and limestone casing, could this be
> indicative of a different style of build for G3a
G2 has granite casing stones at its base and limestone at its top.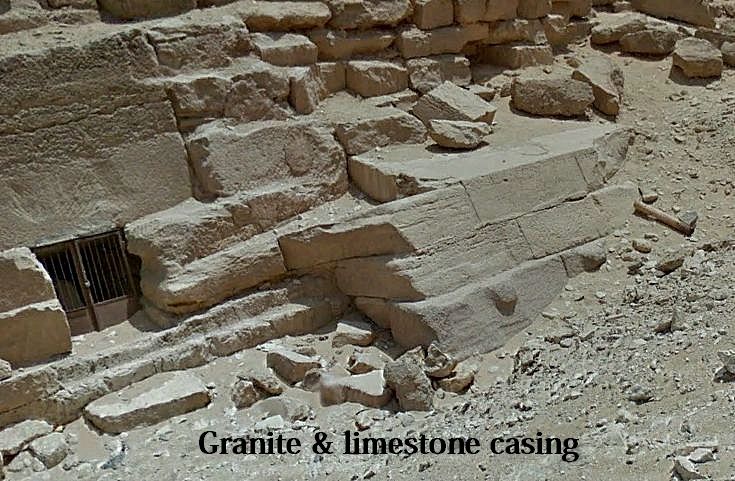 > Thats very specific information, how was this
> information obtained and verified ?,
He said "apparently" which is supposition based on the idea these would have been built largely after the main pyramid which it and its mortuary temple weren't finished.
> Yes im sure all the satellite pyramids of G3 were
> intended to be finished as a true pyramids.
Which began with stepped cores.
> But maybe Menkaure's death was the reason why G3a
> has NOT got a step core.
> My scenario goes like this,
> Satellite G3b & G3c were built first using the big
> block step style, the base of G3a had just been
> prepared when Menkaure died, the builders now
> adopt headless chicken mode and panic sets in as
> to how to finish G3a in quick time.
K. But why spend the effort on this one compared to all the others including the main pyramid wasn't completed?
> So forgoing the cutting of neat blocks for the
> step core structure ,
But we don't know it doesn't have a stepped core with neat blocks and there is much reason to believe it does. I'm not sure what the point is in making this one pyramid unnecessarily different.
> which would have taken too
> long for the coming burial date, they slung
> anything and everything into G3a's construction,
> hence the first and only satellite built like G1
> and G2,
How do you know G1 and G2 do not have stepped cores? Say, exactly like this:
If this were not in a ruined state we would be none the wiser it had a stepped core and would look no different than G1 or G2.
> hence as we can see at least 22 ft into
> G3a that it does not have a stepped core made in
> the same vain as G3b & G3c.
I do not think this is what we are looking at.
> The 22 ft figure is approximate, and based on that
> Alsatian dog being about 2.5 ft from its hind
> quaters to its head.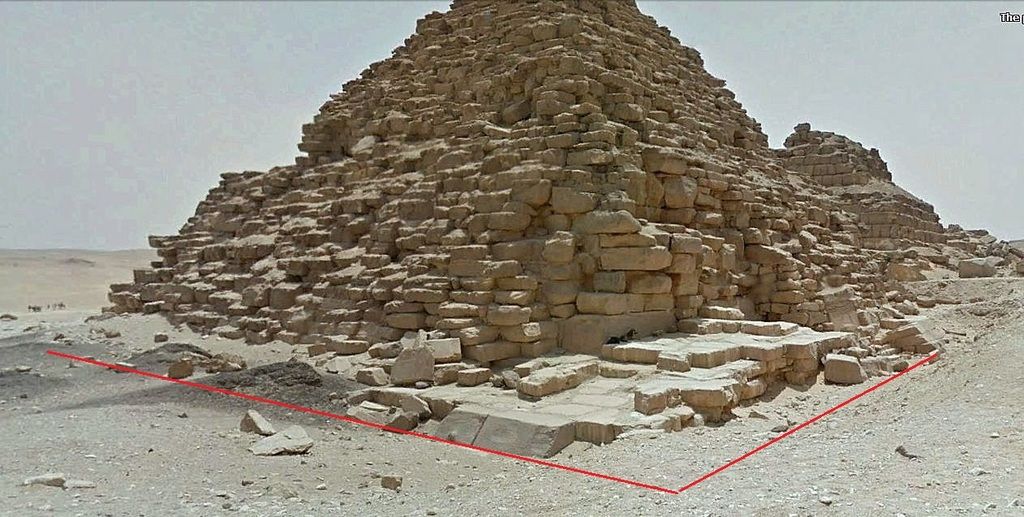 There is something off about this area which I do not think what we are seeing here is the exposed part of the pyramid, but rather an "alcove" with pavement built into this corner which may have been part of a later restoration. Look at the level of this pavement compared to the core blocks on the left of the other face which the pavement sits well above it. Looking at this other angle:
The pavement abuts the large blocks which continue to the right. Not to mention if you look at this corner you can see the blocks of this area are vertical which would mirror the step right behind it. Its not just that this area is "exposed", its architecturally incongruent with the areas directly around it and the rest of the base of the pyramid.
> Then when the whole work stopped on refacing G3
> for whatever reason , it left G3b & G3c
> unfinished
Obviously something happened to the completion of these 3 pyramids, but all things considered there is no reason to think they just so happened to build the one that was completed completely different than the other two that were unfinished. If their plan was to do a rush job, why start from scratch using a potentially untested method when you had two stepped cores right there waiting to be finished?
> Edit,
>
> According to Rigano:
> Quote
>
> The casing is missing from all three pyramids
>
> ________________________________________
>
> No its not, some still remain, who reported the
> granite casing on G3a ?
Not sure where you are getting that quote from which in context I assume he means as a whole and not entirely.
HERE, p200
Picture top left:
[....To the bottom right is one course of granite casing blocks with bosses still in place, above which are two courses of limestone casing.[/quote]
HERE
he lists it as being cased and says:
"The eastern pyramid (GIII-a) was completed as a true pyramid with granite and limestone casing blocks,..."
And:
"The complex illustrates the sequence of construction at his death. Pyramid GIII-a (p2, lower Fig.) has a finished, cased, inclined exterior, but GIII-b and GIIIc have uncased, stepped exteriors."
Look at the casing block in the foreground-its completely flat to match the pavement of the alcove: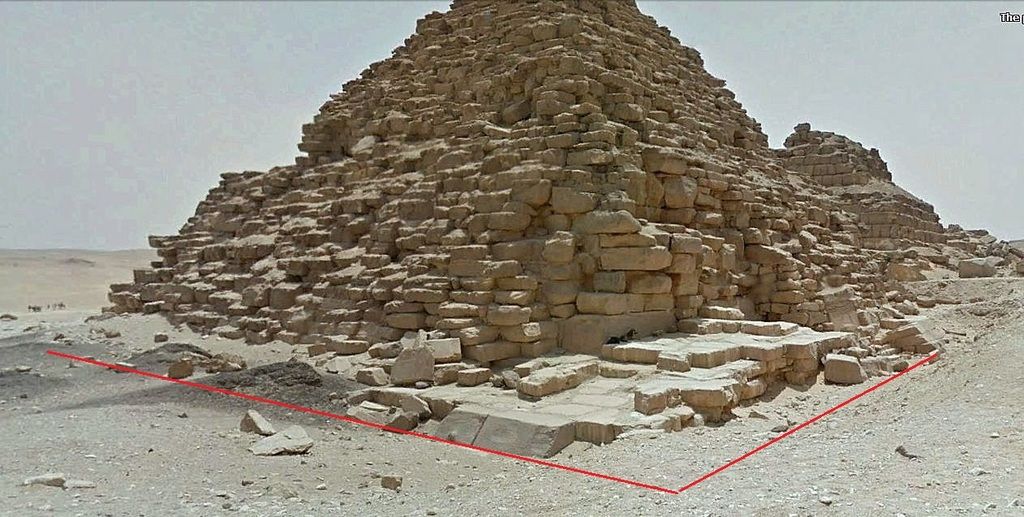 But look again here: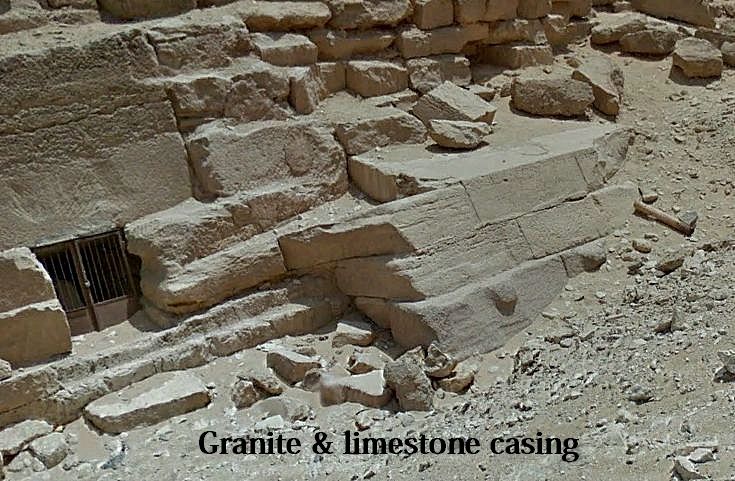 In this area they are clearly slanted which are flattened out at the top block. Slanting the casing is old school, but regardless, this does not match what is seen on the casing on the alcove pavement corner. This makes no sense if these two lines of casing stones were meant to be joined together. Something is off here.
On a side note, I would quote this as well from Rigano:
Quote

There are no foundations for a stepped casing [for G3-b and G3-c] and there is no evidence to indicate that a partially completed true pyramid once existed and was removed. If the stepped interior and the inclined exterior were raised together, we should find a base apron surrounding both GIII-b and GIII-c on which the inclined exterior was initially built. Both pyramids were excavated to their bases in the areas of their mortuary temples without finding the base apron. This evidence indicates that the stepped interior was an intermediate step to the final true pyramid and that the stepped interior was completed before the exterior true pyramid was started.
Which for these anyways, makes it a little hard to start building with casing stones first.
Edited 5 time(s). Last edit at 08-Mar-17 01:07 by Thanos5150.