Mysteries : The Official GrahamHancock.com forums
For serious discussion of the controversies, approaches and enigmas surrounding the origins and development of the human species and of human civilization. (NB: for more 'out there' posts we point you in the direction of the '
Paranormal & Supernatural
' Message Board).
[
www.egyptiandawn.com
]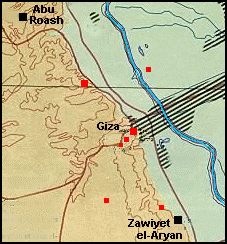 The Great Pyramid grand gallery faces west to map the sky,
The Astronomical platforms of Abu Roash and Zawiyet el Aryan. ...face North
The Catchpenny image of the 3 Starmaping/platforms had me pondering if the 3 are near to
23.5 angle ?
If so....and If more ancient than Dynastic Egypt...
The builders viewing/mapping the Celestial Precession and sky knew the Earth was 23 degree
Axial tilt.
Their reasons for this complex building project and star mapping project is ??? : )
T Bird
Sorry, only registered users may post in this forum.