Mysteries : The Official GrahamHancock.com forums
For serious discussion of the controversies, approaches and enigmas surrounding the origins and development of the human species and of human civilization. (NB: for more 'out there' posts we point you in the direction of the '
Paranormal & Supernatural
' Message Board).
In the thread
Pyramid at Meidum-New Perspective
I proposed the theory that the core seen at seen Meidum today is not a "core" at all, but rather the original structure as it was initially intended which was later converted to a pyramid.
More pictures can be seen
HERE.
It is not clear who built the Pyramid of Meidum let alone the core structure. Some suggest Huni, the last pharaoh of the 3rd Dynasty, began construction though it is commonly attributed to Sneferu, the 1st pharaoh of the 4th Dynasty, who as we know is also credited as the builder of both the Bent and Red pyramids of Dashur. Little discussed, however, is the mastaba fields of Meidum which I propose may shed some light on when the pyramid of Meidum was built.
The Meidum mastaba field consists of several unfinished mastabas, but of note are the three largest- M6: Mastaba of Rahotep and Nofret, M16: Mastaba of Nefermaat I, M17: Mastaba of unknown. They are attributed to the 4th Dynasty, but I believe there is evidence they may in fact be older and the burials intrusive belonging to the 5th Dynasty or later.
Sneferu, the attributed father of Khufu, supposedly began work on Meidum and for whatever reason started on the Bent pyrmaid at Dashur some 34 miles away. We are told because of a design flaw, though he still finished the pyramid regardless, this prompted Sneferu to later construct the Red pyramid which at some point it is said he went back and finished Meidum. We are all aware of the problems with this scenario the most glaring of which the notion one pharaoh built 3 pyramids as tombs, but what is not discussed, compounding this problem, is despite many OK burials at Dashur we are told the cemetery for his family was still at Meidum. But there are problems.
M17: Mastaba of unknown: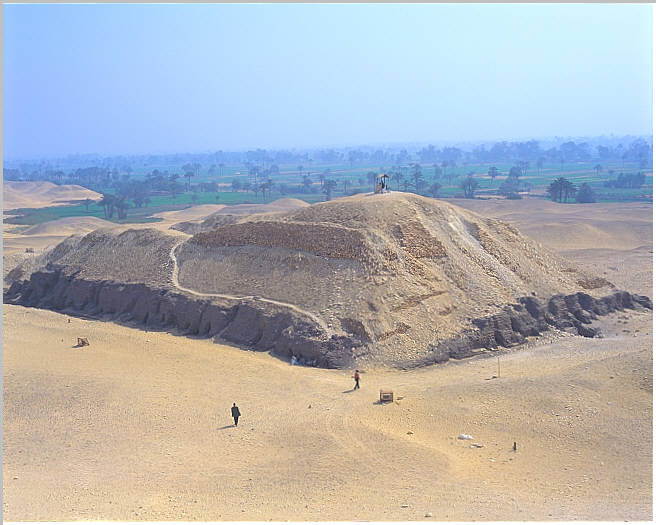 M17 is made of rough cut stones and rubble with a mud brick exterior. The subterranean chamber is well cut limestone and contains a large granite sarcophagus. Given its immense size, the largest of the mastabas at Meidum, and the fact it is unattributed, the reason it is claimed to be "not finished", some Egyptologists have posited this may have been the original intended tomb of Snefru who for some reason later changed his mind and built 3 pyramids as tombs instead. Yeah. Others, however, believe it was a tomb for one of his unknown sons that for whatever reason was never buried there. Regardless, this mastaba is otherwise completely anonymous.
M16: Mastaba of Nefermaat I and Atet:
Proposed reconstruction:
Mastaba 16 is famous for its painting "The Geese of Meidum":
Which interestingly has recently been suggested is a modern
FAKE.
Though some, like Hawass, disagree of course, comparing it to the other paintings found in the mastaba and of the period at large it is certainly unusual:
Regardless, the fact there are paintings inside this tomb at all is unusual which to my knowledge would make it one of the first if not the first of its kind as the 3rd Dynasty and earlier as a rule did not paint on their tomb walls.
Also found was the stele of Nefermaat I:
Note there are no cartouches or even serekhs and makes no mention of any pharaoh otherwise.
Unlike M17, the interior is rough cut and whatever fine cut limestone was there that had paintings on it has apparently since been removed. It contains no sarcophagus and I have found no mention that it ever did.
Nefermaat I is said to likely be the son of Snefru, and half brother of Khufu, yet this is claimed for no other reason than because his mastaba is near the pyrmaid of Meidum which they also say was built by Sneferu.
Otherwise the mastaba itself is anonymous as to the reign of the pharaoh in which Nefermaat I lived. Of note there is a mastaba (mastaba G 7060) at Giza attributed to a "Nefermaat II" though there is no designation of the "II" I can find find beyond that arbitrarily given by Egyptologists. It is suggested his father may have been Khufu.
M6: Mastaba of Rahotep and Nofret: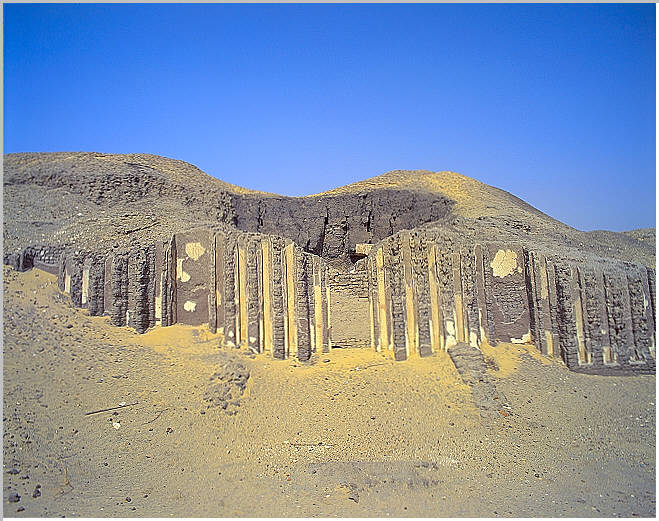 Same construction with mud brick palace facade exterior.
Stele of Rahotep:
No cartouches, no serekhs.
Most famous of the Rahotep finds is the unusually preserved limestone statue of himself and his wife Nofret:
Interesting looking pair, but again
no cartouches or serekhs to identify a pharaoh.
Note the inlaid quartz eyes: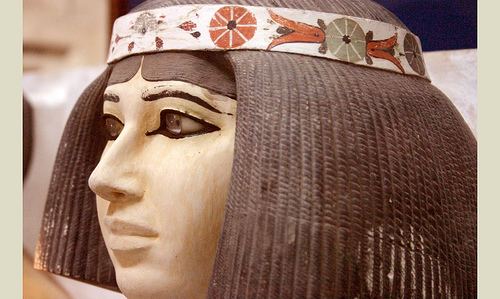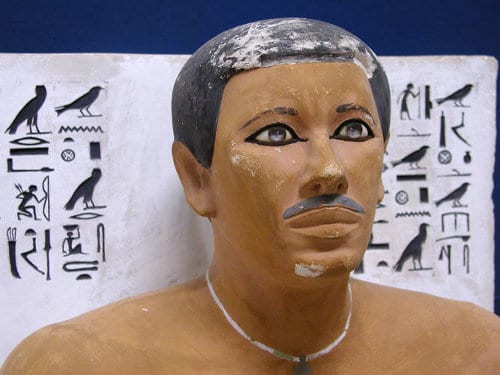 This is highly sophisticated requiring a long period of perfecting the craft though here it is without precedent at the beginning of the 4th Dynasty. According to a Dr Enoch in a lecture titled
A Recent Analytical Study of Egyptian Statuary at the Louvre
:
Quote

These early lenses appear fully formed about 2600-2575 BC at Meidum in the famous statues of Rahotep and his wife Nofret and reappear sporadically in small statuary throughout the Fourth and Fifth Dynasties. The peak of development of these lenses was reached circa 2475 BC. The last Old Kingdom example being that of Mitri. Another Fifth Dynasty statue, that of the funerary Priest Kaemked, had eye structures where the rock crystal lenses were replaced with obsidian, a dark volcanic glass. In the Sixth Dynasty, there are no known examples of these eye structures. These elegant lenses/eyes then reappeared in a single example in the First Intermediate period, the statue of King Hor found at Saqqara, circa 1750 BC....

Dr. Enoch noted that the quality of these eyes clearly indicates that these could not have been "first attempts" and must represent a development from earlier models which are lost or await discovery. Where did the technologies for these eyes develop and why were they permanently abandoned are important questions which also need further study.
source
The eyes of Rahotep and Nofret are undoubtedly the pinnacle of this craft which according to Dr Enoch was achieved in the 5th Dynasty with little like it seen in between. Which leads us to the statue itself, unusual to be found at this time as well. I have not been able to find another of its kind
positively
attributed to the 4th Dynasty though they become commonplace in the 5th:
The only thing that comes to mind is the "seated scribe" statue:
Found at Saqqara, its provenance is attributed to the late 4th Dynasty though there is no actual reason for this designation as it too mentions no pharaoh and was found with no context whatsoever leaving some to date it to the 5th Dynasty regardless.
All things considered, the statue of Rahotep and Nofret is highly unusual for the beginning of the 4th Dynasty, even more so because of the quartz eyes, in which all evidence I have noted points to it in reality belonging to the 5th Dynasty or later.
Again, Rahotep, like Nefermaat I, is said to likely be the son of Snefru, possibly Huni, for no other reason than because his mastaba is near the pyramid of Meidum which they also say was built by Sneferu.
So, what we have is a pyramid whose core as I contend was a stand alone structure with what we see today being as it was originally intended before Snefru came along and converted it to a pyramid. We have his alleged sons buried at Meidum in 2nd Dynasty or earlier style mud brick palace facade mastabas which what is found inside makes no mention of any pharaoh and the only reason they are attributed as Sneferu's sons in the first place is because of the proximity of these mastabas next to a pyramid Egyptologists are not even sure he built.
Further, the cultural context of the contents of these burials do not appear to belong to the 4th Dynasty though are typical of the 5th Dynasty or later. To cling to a 4th Dynasty designation creates an unwarranted series of "firsts" despite the long period of innovation required to attain this skill which is otherwise only found in the 5th Dynasty and later. And to make matters worse, this supposed "family", his children, were buried not at his purported favored "pyramid tombs" of Dashur, but rather 34 miles away at Meidum near a pyrmaid that is said Snefru only finished as an afterthought with no intention of ever being buried in.
We have mud brick mastabas with grand palace facade exteriors otherwise not found anywhere else in the 4th Dynasty, most notably at Giza which is a stark architectural contrast not to mention those at Giza attributed to the 4th Dynasty are nearly all made of fine cut stone. I would assume there would be other mastabas at least early in the 3rd Dynasty with mud brick palace facade exteriors, but surprisingly I have yet to find any though I need to keep searching. One thing is for certain, however, is this kind of mud brick palace facade mastaba was the norm in the 2nd Dynasty being rare if not nonexistent afterwards other than what is found at Meidum.
In conclusion, I see no credible evidence, if any, the core structure of Meidum was built in the 4th Dynasty nor at the very least the three large mastabas of Meidum. They reek of being intrusive burials of 5th Dynasty or later and I suggest it is highly likely the mastabas of Nefermaat I and Rahotep were "unfinished and anonymous" when they found them no different than M17. All told, I do not believe Meidum was founded in the 4th Dynasty, but rather sometime around the end of the 2nd which may be connected to the abrupt appearance of the Saqqara stone working culture at the beginning of the 3rd Dynasty.
Lee Anderson
(edits completed 6/13)
Edited 17 time(s). Last edit at 22-Nov-19 15:27 by Thanos5150.
Sorry, only registered users may post in this forum.