Mysteries : The Official GrahamHancock.com forums
For serious discussion of the controversies, approaches and enigmas surrounding the origins and development of the human species and of human civilization. (NB: for more 'out there' posts we point you in the direction of the '
Paranormal & Supernatural
' Message Board).
In Graham Hancock's most recent book, the unfortunately lackluster
Magicians of the Gods
, regarding Baalbek and the meaning of the word "Nephilim", Graham strangely goes out of his way to not only unnecessarily introduce some of the ideas of the late ancient astronaut theorist Zechariah Sitchin, as if they had any relevance to Graham's narrative of the subject material, but also to denigrate Sitchin as a person by making a concerted effort to portray him as "ignorant", "disingenuous", a "liar" (implied several times), and stating as fact with no source that "[Sitchin] could not read and translate [Mesopotamian texts] as he claimed (his "translations" were adapted and to some extent "fictionalized" from the work of mainstream scholars)…".
Graham can speak for himself, but as a reader I have no idea why Graham would bother even mentioning Sitchin other than to create a straw man to pointlessly beat up on, but for what purpose I can only guess. Regardless, whatever his reasons were, Graham's claims regarding Sitchin seem a little "disingenuous" themselves and warrant further investigation.
Regarding Baalbek, on pg. 278, Graham refers to Sitchin and his 1980 book Stairway to Heaven, saying [all italics mine]:
"Sitchin's claim that the raised platform of Baalbek was "intended to support some extremely heavy weight" and that the heavy weight in question was a "rocket-like Flying Chamber", could only have been made by a man who had no idea of the real appearance and layout of Baalbek itself, and could only be believed by others with no direct knowledge of the site."
Graham continues:
"It follows, therefore, that to use the megalithic character of the U-shaped wall to claim that a podium-which it is not even connected to, and does not support-was an alien "landing platform", designed to bear extremely heavy weights, where "all landings and take offs of the Shuttlecraft had to be conducted is either ignorant, or disingenuous or both."
Of note Graham also says:
"And while an alien might conceivably land his spacecraft on even so modest a podium (if there were no other structure there) he certainly would not want to land it on top of a wall."
To be clear, the "podium" is the raised area where the Temple of Jupiter once stood. For perspective:
The Temple of Jupiter was originally 289' x 144' which the megalithic wall containing the Trilithon forms the west side of the podium it sat on. Obviously the podium itself is at least as large if not larger. By comparison an American football field measures, from end line to end line, just a little larger than the temple itself at 300' x 160':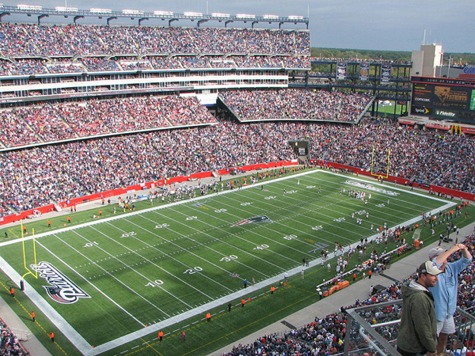 To address Graham's comments:
Sitchin does not say
"the raised platform of Baalbek was "intended to support some extremely heavy weight""
, but rather (pg. 177, Stairway to Heaven)
"Whoever laid this platform originally, paid particular attention to the rectangular northwestern corner, the location of the temple of Jupiter/Zeus. There the temple's more than 50,000 square feet rested upon a raised podium which was certainly intended to support some extremely heavy weight.".
Like the Temple of Jupiter perhaps? I do not think this was originally the case as it is even acknowledged by one of Grahams' own sources, archeologist Daniel Lohmann, "podium 1" predates the Temple of Jupiter, yet regardless, building such a podium to support some "extremely heavy weight", as Sitchin rightly notes, is far from being "ludicrous" but actually required to support the massive temple let alone any large structure that may have stood on it prior. This is common sense.
Sitchin repeats himself making it even clearer on pg. 182 (a page which Graham even quotes) saying:
"As we look at the vast Platform, its location and layout, and ponder the purpose of the immense Podium built to sustain massive weights, the description of the coin from Byblos (Fig. 89) keeps flashing before our eyes: a great temple, a walled sacred area, a podium of extra strong construction-and upon it the rocket-like flying chamber".
[emphasis mine]
(See picture below of Phoenician coin with conical object)
Regardless, as we can clearly see Sitchin does not claim the
"platform of Baalbek"
intended to support some "extremely heavy weight", but rather specifically the
"podium" of the Temple of Jupiter
that sits on top of it of which the western megalithic wall is acknowledged by experts to form part of the podium.
Regarding Graham's comment:
"It follows, therefore, that to use the megalithic character of the U-shaped wall to claim that a podium-which it is not even connected to, and does not support…"
, ironically is also contradicted by Lohmann who says:
"If 'monumental' is ever justified as a description, it is for the ruins of these colossal temples, of which the Temple of Jupiter boasts some of the largest columns in the Roman world (almost 20 m high and 2 m thick) and a podium of what are thought to be the largest blocks [Trilithon] ever used in a building…".
Source
Lohmann continues:
"Although it consists of a separate ring at some distance from the core podium, it should belong to this redesign, as it maintains a constant distance to the awkwardly placed colonnades at the edge of the core podium. The trilithon is generally considered unfinished (Wiegand 1921, 53). However, traces on the northern facade show that the podium was built up all the way to the floor level of the temple, though it was not entirely completed,as shown by the uneven and unfinished floor surface."
The trouble with all this, again, is that Sitchin is not claiming this "U-shaped" megalithic wall was to hold these "extremely heavy weights", but rather the podium itself.
Graham also says:
"The gigantic megalithic blocks of the Trilithon that seemed to have convinced Sitchin the entire megalithic platform was megalithic all turn out to be parts of the U-shaped wall that embraces it…"
In Stairway to Heaven, though Sitchin does not make it abundantly clear if he believes Baalbek was made "entirely" of megalithic blocks, it would appear not as he notes German expeditions which suggest the platform
"rested on gigantic vaults"
which such a
"subterranean maze"
was verified by Andre' Parrot in the 1920's. For clarification, in his 2004 book,
The Earth Chronicles Expeditions
, pg. 175/176, speaking of his tour to Baalbek in 1998 (guess he went there after all), he notes sketches made by these same German researchers after WWI:
"They showed the massiveness of the podium on which the Jupiter temple once stood as seen from the outside and how much it rose above ground level (fig. 116). But sketches of the crosscuts revealed that the area on which the temple rose was in fact a landfill, with subsurface passageways, archways, and other cavitites. This landfill in turn rested upon a stone floor at some deeper undetermined level (fig. 117). The Germans did not (or could not) determine how far down this landfilled hollow went down."
It is clear Sitchin was suspect the entire platform was not built entirely of megalithic blocks as he notes at least to some degree as it contained beneath it "vaults" and a "subterranean maze", which is nevertheless confirmed in 2004 by noting the platform, specifically the podium of Jupiter and underlying area, was a "landfill", i.e the entire platform was not made of megalithic blocks.
Sitchin continues (pg. 177/178) regarding the "U-shaped" megalithic wall:
"But we found the depiction on the Phoenician coin confusing, for it showed a rocket like object poised on a platform, and fenced only on three sides. So what was the purpose of the massive retaining walls, and why did they rise up and up and up?
(Pic added by me for reference)
Another key piece of the puzzle was the realization that the main part of the Jupiter temple, located on the westernmost end of the series of steps, courts, ect., stood not on original ground, but on an artificial platform that was placed on top of lower stages; and the area of the podium was actually a landfill-it covered a hollow that went down to undetermined depth. What was that for?

We had to admit that the northwestern corner and its colossal stone blocks and overwhelming massiveness remained a puzzle."
It is clear, contradictory to Graham's claims, Sitchin by no means based on the trilithon alone thought all of the Baalbek platform was "megalithic" and clearly distinguishes what is the megalithic wall and what is the podium of which the latter he is clearly suggesting was made to support "extremely heavy weights", which in fact it was, no different than the "podium" underneath the nearby massive Temple of Bacchus:
Sure looks like an "extremely heavy weight" to me.
To that end, whether it was a "landing pad" or not one can make up their own mind, but Graham's protestations do not diminish Sitchin's research as to the structural relationship of the Baalbek complex which is clear, whether he had been there at the time of writing or not, he clearly understood what was what. "Ignorant"? "Disingenuous"? "Both"?
Unfortunately it does not end here.
Pg. 279, Graham's claims continue stating as fact:
"The Mesopotamian cuneiform texts, which he [Sitchin] could not read and translate as he claimed (his "translations" were adapted and to some extent "fictionalized" from the work of mainstream scholars)…."
Did Sitchin tell him this directly? Is Graham a closet linguistic scholar? Again, Graham does not give a source, though I know where it comes from the moment I read it as we later can extrapolate comes from stichiniswrong.com proprietor Michael S Heiser.
Beginning on pg. 346, Graham ramps up the vitriol considerably which he begins by describing Sitchin's translations from his Earth Chronicles as
"credulous nonsense"
which his
"science fiction novels"
he
"successfully passed off to the public as factual studies"
. Noting he has already touched on Sitchin's
"misrepresentation of Baalbek"
, which as we have seen is actually Graham's "misrepresentation" of Sitchin, and though he is not saying
"everything he wrote was fiction"
his
"overall body of work is marred by enough blatant fabrications and fantasy to call for caution, rather than immediate, trusting acceptance on the part of his readers."
Graham then gets to the point which is the translation of the word "Nephilim". He offers Sitchin's which he quotes:
"What then does the term Nefilim mean? Stemming from the Semitic root NFL ("to be cast down"), it means exactly what it says. It means those who were cast down upon the earth."
Graham continues:
"The problem, however, is Michael S Heiser, a genuine Biblical scholar and ancient Semitic languages expert, has conclusively demonstrated that…" [I paraphrase for brevity] it does not mean "to be cast down" or "fallen ones" but rather the more commonly accepted "giants"."
As a result
"…the translation Sitchin gives is obviously bogus"
. He further debases Sitchin by raising the question:
"Did he know it was bogus even as he retailed it in his books? There can be no certainty because, as Heiser goes on to prove, Sitchin's grasp of Biblical languages was so weak that he was unable to distinguish Aramaic from Hebrew. The notion that the Nephilim were beings who were "cast down from heaven" or "who came down from heaven", was deployed by Sitchin, Heiser believes, simply because it serves his purposes to "make the nephilim sound like ancient astronauts".
Again the criticism is justified because Sitchin goes beyond what could be an innocent error to give further "translations" of the word Nephilim that are even more self-serving and phony. For example, he makes them the "Gods of Heaven upon Earth", and worse still, "the People of the Rocket Ships"-an interpretation for which there is no possible justification in any ancient text but that allows him to speak, amongst other egregious and deceptive fictions, of the "Aeronautics and Space Administration of the Nefilim".
One has to wonder why Graham would even mention Sitchin at all if only to kick him the face for no apparent reason, and though I will get to Heiser in a moment, another reality check of Graham's comments is required.
Regarding Sitchin's translation of Nephilim to mean
"to be cast down"
, what Graham is too busy to mention while he is stomping on Sitchin's balls in the body of the book, though he hides it away in the bibliography (pg. 491) :
"To be fair, Sitchin is not alone in making this mistake. A number of genuine Biblical scholars have made this mistake also."
Quite a strange definition of "fair". So Sitchin is a liar and a fraud whereas "genuine biblical scholars" are merely "mistaken"? Says who-Michael S Heiser? And Graham agrees as to not "make the nephilim sound like ancient astronauts", but rather "giants"? Graham goes on to list several examples in prestigious publications of such Biblical scholars who have translated this to mean "fallen angels",
"Ronald S Hendel tells us "Nephilim literally means the fallen ones"
", ect, ect.
Who is Ronald S Hendel you ask? Only the Norma and Sam Dabby Professor of Hebrew Bible and Jewish Studies at the University of California, Berkeley, Dept. of Near Eastern Studies and author of more than 6 related books and dozens of papers.
Source.
And if anyone wants to know why Hendel believes he is right and Heiser is wrong they can read all about it
HERE
in responses from Hendel to Heiser titled
Michael Heiser: Putting the Aramaic Cart before the Hebrew Horse
followed by
Michael Heiser's (Mis)interpretation of "Nephilim" as "Giants" not "Fallen Ones"
Isn't it strange that Heiser, endorsed by Graham, which Graham hails
"Heiser goes on to prove, Sitchin's grasp of Biblical languages was so weak that he was unable to distinguish Aramaic from Hebrew"
, is taken to task by another bonafide, arguably more accomplished Biblical language scholar, who accuses Heiser of
"Putting the Aramaic Cart before the Hebrew Horse"
, the very reason why Heiser, to support his own "giants" translation, claims Sitchin's translation was "bogus" in the first place? Life can be funny that way sometimes. Yet Graham chooses Heiser over Hendel just to support a translation of "giants", which he spins into his own self-serving unsupported interpretation of "intellectual giants", and as a result claims it is actually Hendel that is "mistaken"? Hmm.
I wonder, did Hendel, Norma and Sam Dabby Professor of Hebrew Bible and Jewish Studies at the University of California, Berkeley, Dept. of Near Eastern Studies, "...know it [his Nephilim translation] was bogus even as he retailed it in his books?"
Yeesh.
Hendel also notes that Victor P. Hamilton, Professor of Old Testament and Theology at Asbury University from 1971 until 2007, translates Nephilim as...wait for it...:"'those who were made to fall;
those who were cast down
'".
Sound familiar?
To press on, regarding Sitchin's references to Nephilim as the
"Gods of Heaven upon Earth"
, and worse still,
"the People of the Rocket Ships"
, to speak of "disingenuousness", it is painfully clear these are by no means "translations" of any kind, but rather self-styled "monikers" in the context of the topic no different than Graham refers to the "Nephilim", "Watchers", "Oannes", et al as the
"Magicians of the Gods"
.
But who is this "genuine Biblical Scholar" Michael S Heiser Graham has cast his own self-serving lot with? You can read all about him as he has posted his
CV
for you. He is indeed a bona fide Biblical language scholar, of this there is no dispute, but what his CV does not tell you, though his employer
Logos Bible Software
will is that:
"Mike has an active ministry to people whose worldview is molded by occult, paranormal, and esoteric beliefs. He observed that many who have adopted "alternative" worldviews were formerly traditional theists and Christians who left the faith when their questions on difficult passages and topics went unanswered, or when spiritual leaders failed to address experiences they had had. Mike seeks to fill these gaps as a Christian scholar and has become well known in these circles through writing, speaking, and numerous radio appearances."
In other words, Heiser, as well as being a "genuine Biblical scholar", is also a devout evangelical Christian whose "active ministry" is specifically devoted to turning those who have strayed seeking alternative answers to historical questions back to Christianity. Part of this "ministry" apparently, includes proprietorship of such faith inspired websites as his The Naked Bible, Paleobabble, as well as the seminal Sitchiniswrong.com which you can find links to
HERE
. Heiser also believes, among other things, in a "Divine Council" of gods which Yahweh is just "inherently distinct and superior to all other gods". Regardless, Heiser if anything, is prolific and if anyone wishes to learn more about the depth of his faith and how this bias's him all one has to do is Google to find numerous Bible study lectures, videos, blogs, radio shows, ect, ect.
It is beyond the scope of this post to delve into the minutia of Heiser's claims regarding Sitchin's translations, but for any interested parties I recommend actually taking the time and read what he is saying instead of just taking his word for it, something which he actually implores readers to do as well. I have on several occasions and have found them, despite his expertise, to be quite lacking in their intended aim and in some cases contradictory to the point he is trying to make. "To be fair", as it were, to Heiser-his religious beliefs by no means negate his technical ability as a linguistic scholar, but it goes without saying, particularly with Sitchin, his religious bias erects an insurmountable impasse to where being "unbiased" is by default impossible. This does not mean that 100 out of 100 linguistic scholars would not at least in principle agree with Heiser regarding Sitchin's cuneiform translations, but given the fact Sitchin does not credit God with the creation of humans, but rather aliens, which as a byproduct, though he does not specifically state it, under Sitchin's model if there is no such thing as the Bible's supreme creator then there is no Jesus Christ Son of such a God either- how could Sitchin ever possibly be "right"?
The point to be made about Heiser is that the overwhelming majority all of this oft repeated vitriol about Sitchin spread around the internet, that he is a "fraud" and a "liar" and the like, all stem from Heiser who is clearly not as objective as he claims to be, and by some definitions, his beliefs are every bit as "kooky" as Sitchin's with a vested interest, his very soul no less, in him being "right" and Sitchin being "wrong".
Furthermore, regarding the cuneiform translations, Heiser is not translating these himself, but rather relying on the translations of others and is merely telling you what those translators say. This by no means is to suggest Sitchin's translations are correct mind you, but as I said before, the whole point of Sitchin retranslating these in the first place is that he thought those very scholars were wrong so how does using those same scholars against him really "prove" anything?
Turning back to Graham: I hope this post finds you and that you take it under consideration and will make public corrections where warranted. I have no idea why you choose to detour your book to exhume Sitchin just to drive a bus back and forth over him for no apparent reason, but considering how one could find just as many detractors who would say little better of you, of which no amount of Sitchin bashing will distance you from, I would think you would have at least been a little more civil in your personal characterization of Sitchin regardless of what others such as Heiser might say.
Edited 19 time(s). Last edit at 28-Mar-17 18:09 by Thanos5150.
Sorry, only registered users may post in this forum.